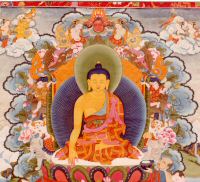 Ole Nordstrøm, Lama Ani Ea and Brian Zinck have prepared a guide for use in a Buddhist funeral.
Here you can read about general information for relatives and friends attending the funeral of a deceased Buddhist.
The different Buddhist traditions have their own rituals and ceremonies which they can use.
The guide is now available in Danish and English in A4 format and in A5 format as a 12 page free booklet.

In addition, it can be downloaded as a PowerPoint presentation with audio, images and active links.
An A4 booklet in English including a will can be downloaded as a PDF file  HERE
An A4 Will and Final Testament in English can be downloaded as a PDF file HERE
A PowerPoint including all editions of the booklet in both Danish and English and with a video from the Mausoleum with Khunu Rinpoche  HERE