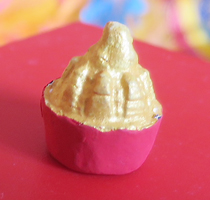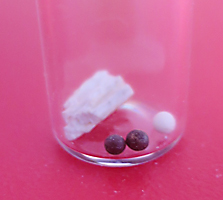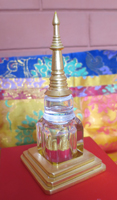 From H.E. Jetzyn Mindroling Khandro Rinpoche
Hair from Guru Rinpoche
Hair from Yeshe Tsogyal
Relics of HH the 15th Karmapa given by the 16th Karmapa
Ashes and bones of the 16th. Karmapa
Tsa Tsa with ash and bone fragments in of the 16th Karmapa
Relics of HH Kaybje Mindroling Trichen Rinpoche and HH Dhilgo Khentze Rinpoche
A piece of Atisha's Stupa in Tibet
Given by the Ven. Khenchen Thrangu Rinpoche: 
4 pills of body, speech, mind and quality.
3 white pills by Milerepa and Rechungpa
3 Black pills by Marpa
1 pill by Dakini Yangchen Palmo
1 large Pill containing 1000 kinds of Medicine
1 large Pill containing 1000 kinds of fruit
Stupa with a fragment of Ven.Tenga Rinpoche bone in.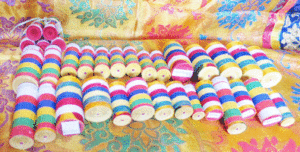 From Tenpa:
Many mantra rolls
Tsa tsa with blessing in from Boudhanath Stupa.
Body speech and mind pills made at Tenga Rinpoche
Black Karmapa pills
Relics from Tenga Rinpoche: 1st piece. bone and 3 self-manifest pills found after the cremation of Tenga Rinpoche.
1 piece of clothing from the 16th Karmapa
Blessed rice of the 16th and 17th Karmapa
Tsa Tsa with Tenga Rinpoche relics in.
Stupa with Ven.Tenga Rinpoche bone in.
Salt from Jamgon Kongtrull Rinpoche
From Sangye Nyenpa Rinpoche:
Blessed pills from Nyenpa Rinpoche and Dhilgo Khyenze Rinpoche
Red Tjenrezig pill from Situ Rinpoche
Pills from d 16 Karmapa cremation
DALAI LAMA: Chenrezig pills
From Bro and Esther:
Tza tza with blessing from the Bouddhanat stupa
Various stones and sacred things from monasteries in Tibet, Bhutan, Nepal and Bodhgaya in India.
The stupa was built and filled in the traditional way with Tsa Tsa, the Tree of Life up through the entire stupa, jars with the various relics, mandalas, all kinds of mantras, symbols of prosperity such as money, various kinds of grain and traditional sacrifices.